PRESENT EDUCATION SYSTEM IN INDIA
Introduction
Remember when your relatives asked you the monotonous question "Aur beta, Kaisi chal rahi hai padhai?" And no brownie points for guessing the least interesting answer we had. We may have tackled such questions in a mediocre way but education and schooling are an integral part of what we are. Education not only enhances your ability to think but also gives you the curiosity to question things around.
Being a diverse country, the primary and secondary education is provided in a variety of local languages making it easier to reach everyone, the higher secondary schools having a lesser variety in the medium of education. These institutes are administered by boards like State Board, CBSE, ICSE offering different curriculums all over the country to give children an overall exposure to each possible subject.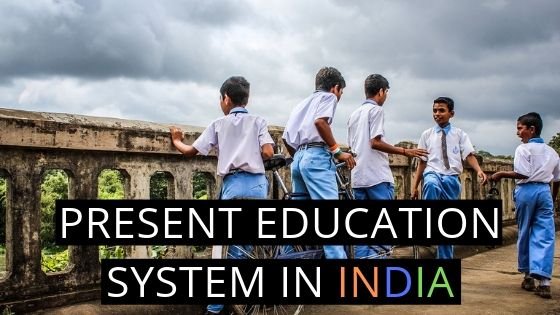 After these years of schooling, one takes up programs like graduation, post-graduation, and doctorate according to his/her interests (or 'trends'). But does taking education offer you a decent job? India has always been a country where Government jobs are preferred but Government schools are not even on the list.
---
Quote
"The function of education is to teach one to think intensively, and critically. Intelligence plus character – that is the goal of true education." – Martin Luther King, Jr
---
STATISTICS – What Numbers have to Say?
The 2011 provisional census figures project that the Indian literacy rate in 2018 was around 74.04%
The interim budget of 2019 has allocated Rs. 93,874.64 crore to the education sector, which is more than over 10% from last budget allocation.
According to All India Survey on Higher Education, India has a Gross Enrollment Ratio of 25.4% for Post-Graduate and Doctorate programmes.
According to the Ministry of External Affairs, more than 7 lakh of Indian students are studying abroad.
According to the International Labour Organisation (ILO), India will have its unemployment rate at 3.5 per cent in 2018 and 2019.
---
Description – Let's take a Deep Dive
The Indian Education System is one of the oldest education systems in the world. Several centuries ago, the students studied at Gurukul ashrams and stayed with the teacher until the teacher felt that he has taught them everything he had to. Today, every other lane has an educational institute. As a result, the quality of education provided has deteriorated.
On the other hand, India has its premier institutes like the IITs, IIMs, IISc, IISER, TIFR, etc which are a mark of excellence and famous around the world. The race for grades has often left sports and other extra-curricular activities out of the priority list.
Various reforms are being made in the syllabus and curriculum to enhance the learning process. Introduction to edu-comp and smart classes has helped children to learn better with visual understanding. Today, education is not limited to the institutes, thanks to the internet and various platforms that provide e-learning facilities.
---
Pros of Indian Education System
A student is exposed to a variety of subjects at the primary level of his education that helps him to gain knowledge of different subjects from an early age.
The Indian Education System emphasizes theoretical knowledge which stands strong in the research works.
Due to the curriculum provided, the grasping power of students is enhanced.
A competitive spirit is inculcated from early stages which urges to perform the best.
Cons of Indian Education System
The quality of education provided is associated with the expenditure on it. Higher fees are charged if the institute is well-known. The enormous amounts of donations demanded by private institutions are not new.
The Indian Education System has reservation based on caste. A higher percentage of reservation makes it even tougher for students to qualify for various competitive examinations.
Practical and field-based knowledge is not a focused parameter which leads to failure in fulfilling the employability criteria.
Increasing competition overburdens the students and limits their creativity.
---
Conclusion
India is a vast country with a vast educational system. This system needs to be reformed for effective learning so that human resources can be utilized for its best. Modern problems if provided with modern solutions, will enhance creativity and overall development.
---
Author – Mitali Shingne
---
Must Explore
GD/WAT Topics for MBA Admissions