GD GUIDE
Top 10 GD Tips: Group Discussion Tips 2024
GD TIPS – GROUP DISCUSSION TIPS
This article will help you understand all the Important GD Tips that will definitely help in an Actual Group Discussion stage.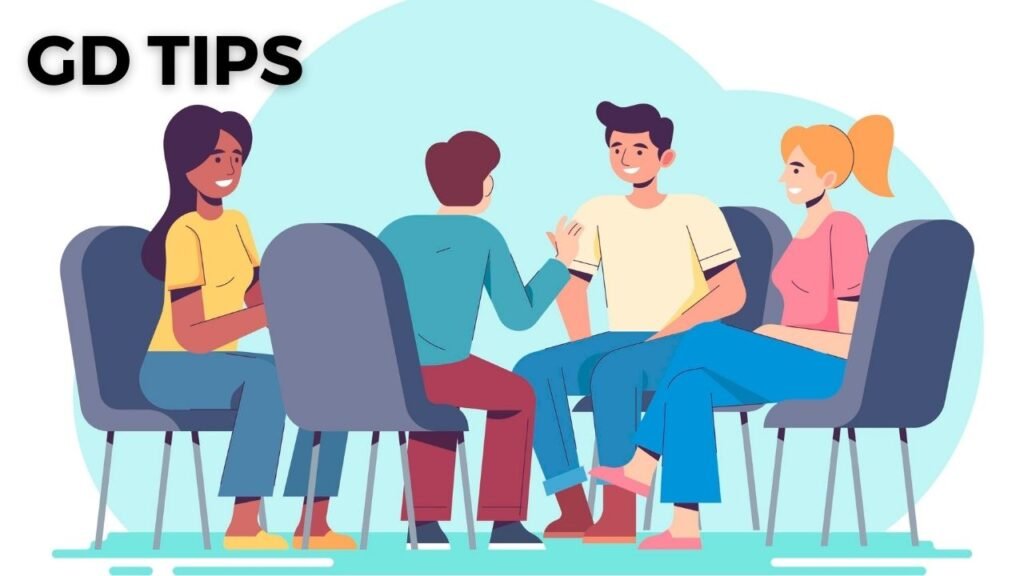 ---
1. Content is the King
The most pioneering tip for GD is – speak relevant content. The benefit of presenting enriched content is, you can take the whole GD on your side. Resultant, you'll lead the GD round.
For good content, focus on the facts & figure whenever possible. Also, remember these golden letters for good content- PESTEL. As mentioned in this image, try to figure out the content on these points. Create a positive impact and indulge others into your content.
---
2. Body Language and Gestures
You are constantly observed by the panellists right from the time you enter the room. Here are a few things to remember:
Maintain good eye contact with the other candidates, while you are speaking.
Nod your head positively while other candidates are presenting, it portrays that you are listening to them and you are involved in the discussion.
Don't lean back. Lean forward. Maintain a stable position, it will again depict that you are interested in the discussion happening.
Don't give any negative reaction through your facial gestures if you don't agree with someone's point.
Control the movement of your hands otherwise you might end up point fingers unknowingly.
---
3. Strictly avoid looking at the panellists
As a human tendency, you'll tend to look at the panellists just because they are the one who will qualify you. But remember one thing, the discussion on the topic is amongst the candidates.
Panellists are not at all part of your discussion. So, no matter what, while discussing, avoid looking at the panellists.
---
4. Don't Contradict your own points
Stay firm on your points. If you easily get moved away by what others are saying then it clearly states that others are able to influence you. These institutes for looking forward to having leaders and not followers at their campus. So, be specific and conscious when you make points.
The Inverse – If someone throws back relevant point then Accepting it becomes the Key. Accepting relevant information doesn't make you lose points.
---
5. Respect Others
If you don't agree with someone or if someone says anything wrong, don't let your speech and expressions reflect so.
For example – Rather than saying, "I don't agree with you." Say, "I would like to mention that…" so that you don't offense others. Last but not least, positive and calm throughout the process.
---
6. Dress Well
Before anything, panellists are going to have eyes on your personality. So guys see to it that you are clean shaved and well-groomed. And girls, please see to it that you have your hair tied.
Blazers are not compulsory for the GD, carry one if you have it.
---
7. Use Frameworks
Try to use various theories and frameworks to put forth your points.
For example – SWOT analysis, BCG Matrix, GE Matrix, PESTLE D Analysis, Management Principles, STPD etc.
---
8. Entry and Exit 
If you are well versed with the topic then it makes sense to start with Group discussion. This will help you direct the complete GD according to the information you have.
Initial entry helps you ease the situational pressure and boost confidence. Don't exit until you put forth a point clearly otherwise other will take advantage of open ends.
Let everybody speak and avoid entering the GD for every counterpoint from the GD members.
---
9. Keep a check on Time
The panellist will give you a time frame for GD. They might give everyone extra time to conclude.
A careful person will keep a check on time and try to conclude the topics within the same time limit. Remember, the panellist will hardly mention anything about concluding the topic. It is so understood that GD members are well aware of the complete ruleset.
---
10. Confidence and Practice + Tackle Fear
Everyone is not comfortable with Public speaking. Under confidence coupled with low self-esteem can make your day worse with poor performance in GD.
One must practice GD with friends, family, colleagues etc. in order to gain command over what comes out of your mouth. The confidence level will also increase and the same notion has to be delivered in an actual GD.
---
Must Explore
What is Group Discussion and its Importance