FACEBOOK VS LINKEDIN
INTRODUCTION
The world's most popular and free social networking web sites, Facebook enables users to connect with friends and family by sharing status updates, personal photos and other items of interest. Founder Mark Zuckerberg created Facebook in 2004 while a student at Harvard, designing the site as a means for other university students to communicate and to socialize online.
The idea quickly spread from there and has become a global phenomenon, with more than 160 million users in the United States alone.
LinkedIn, business-oriented social networking site founded in 2002.
LinkedIn emphasizes a user's professional connections. Users create profile pages that have a structure similar to a résumé, in that users can summarize their career, advertise their particular skills, and list their education and employment history. Connections are formed between users when one accepts an invitation from another to join his or her network.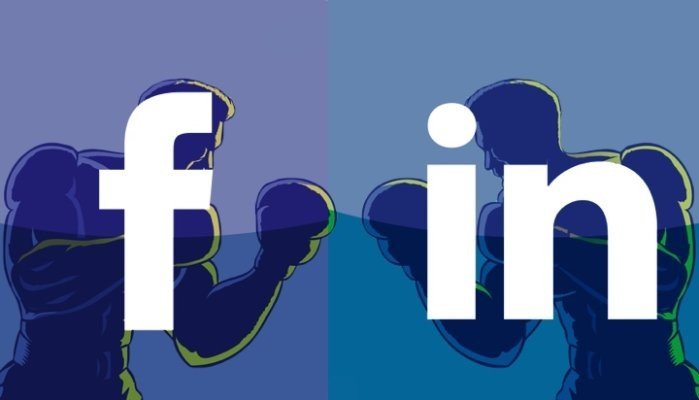 LinkedIn allows users to further their careers by searching for jobs, finding connections (even at third hand) at a particular company and receiving recommendations from other users. Membership is free; however, with payment for premium service, users can receive more profiles in their search results and see full profiles of any LinkedIn user. It first came on the scene in 2003 and was founded by 4 individuals including Reid Hoffman, Allen Blue, Konstantin Guericke and Jean-LucVailla.
---
QUOTE
"If you are on social media, and you are not learning, not laughing, not being inspired or not networking, then you are using it wrong." ― Germany Kent
"Facebook asks me what's on my mind. Twitter asks me what's going on. LinkedIn wants me to reconnect with my colleagues. And YouTube tells me what to watch. Social Media is no reality show or Big Brother. It's but a smothering mother!" ―Ana Claudia Antunes
"Demand is the fuel that accelerates every invention." ― A.K. Rezaul Hoque Jewel
---
STATISTICS – What Numbers have to Say?
To start off, let's look at the sheer number of users on each platform. As of 2019, Facebook has roughly 2.38 billion active users worldwide. On the flip side, LinkedIn has about 260 million active users. But what's more interesting isn't how many users each social platform claims, but how much time the users are spending on the platform. For Facebook, it's about 35 minutes per day, while LinkedIn users spend a mere 17 mins per month using the product.
1.56 billion daily active users on Facebook on average for March 2019
2.38 billion monthly active users on Facebook as of March 31, 2019
Here are the top 7 LinkedIn stats every B2B marketer needs to know:
61 million LinkedIn users are senior level influencers and 40 million are in decision-making positions.
LinkedIn is the #1 channel B2B marketers use to distribute content at 94%.
LinkedIn makes up more than 50% of all social traffic to B2B websites & blogs.
91% of marketing executives list LinkedIn as the top place to find quality content.
Of the 10,000 most shared articles of the last 5 years, only 6% were written by influencers.
80% of B2B leads come from LinkedIn vs. 13% on Twitter & 7% on Facebook.
LinkedIn generates 3x more conversions than Twitter & Facebook.
LinkedIn is without a doubt the place to be for B2B marketers.
---
DESCRIPTION – Let's take a Deep Dive
Facebook and LinkedIn are both public companies and bear few similarities. From a numbers standpoint, both companies are very similar. They both produce almost the same revenue per user. But, the number of users is quite different for the two. Facebook & LinkedIn have 900 million and 161 million users respectively. The year over-growth rate of LinkedIn is 100% as compared to Facebook's 44%.LinkedIn is a Professional Social Network.
It provides a platform for recruiters and job aspirants to connect. The average age of the users is 40+ years. whereas Facebook has a younger and more diverse crowd than LinkedIn. Every Social aspect of a person's life may be found on Fb. The average age of users on Facebook is 30 years.
Facebook is more of a personal platform whereas LinkedIn is a professional connection platform. Both serve very different purposes. Some might say that Facebook can be used in a manner similar to LinkedIn but it would lack the professional touch that LinkedIn provides.
---
Pros of Facebook                               
The real advantage of Facebook is that it's a real-time social networking site. This makes it one of the best sources to stay updated with the latest news and information. Major news usually goes viral on Facebook, and most brands use it to announce important things regarding their products/services.
Facebook is one of the largest sites in the world where we are not only allowed but encouraged to connect with everyone.
Anyone can take advantage of Fb to maintain a good relationship with others who identify with certain tastes or products. This is very important because as a business, you can sell or promote a product/service to a highly targeted audience, thus increasing the possibilities of making money on the internet.
Facebook gives brands the opportunity to create their own business page and offers the tool to be creative, such as live video, offers, and slideshows.
Facebook allows the establishment of partnerships between various projects. Moreover, using a facebook fan page, you can increase your brand value and social media presence for your business. If used properly, Facebook can help you find new leads and clients.
Cons of Facebook
Facebook is full of fake profiles-There is no limit to these profiles. Most of them are created by stalkers or marketers looking to gain more friends and use it for their marketing purposes.
Facebook offers many entertainment applications and games which engage users to a great extent. Apart from that, Facebook chat and Facebook video chat are another two time-consuming features
The security issue, Lacking personal touch, Accidental posts, Tendency to endorse fake news.
If you want to use Facebook to your advantage, set yourself a time-limit. Spending too much time on Facebook might make you a Facebook addict, and you might end up wasting too much time.
Pros of LinkedIn
We  meet people we would never have otherwise met
We get to learn from lots of people in the industry and beyond
We get to grow a network of great people who we can help and who can help us.
We develop our professional reputation based on the content we share and engage on.
We regularly uncover business opportunities.
Cons of LinkedIn
 It takes time to learn
It takes time to use
It changes regularly so you have to stay aware of the changes
You have to manage your reputation by managing your conversations
Everything you do on LinkedIn must be public, therefore you can not be a private person for the most part)
---
CONCLUSION
Weighing the scales, in conclusion, it can be said that both platforms serve a different purpose effectively and very much required in the digital age. They need to co-exist in order for society to function effectively.
Author – Mayuri Aher
Scrutiny – Riya Chandra
---
Must Explore
GD/WAT Topics for MBA Admissions