IS INDIA READY FOR ELECTRIC VEHICLES
INTRODUCTION
'Death by Breath' was an Indian Express initiative covering the air pollution in Delhi and its effects on the population residing. As the name suggests, it had become fatal. After reading about the deteriorating air quality, each one of us had thought why don't we opt for electric vehicles in India?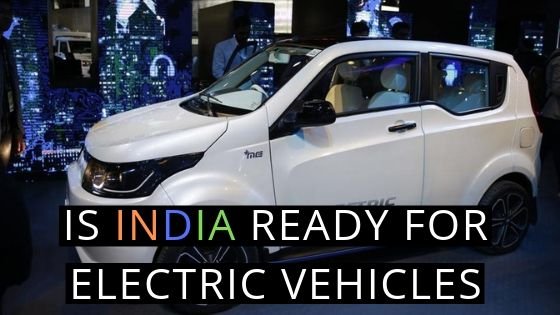 There are obvious advantages of electric vehicles but then why are they such a rare sight? If it is only about the price then why people owning private jets don't drive these cars? Amidst of all these questions, we must remember that most convenient public transports in India like the famous 'Mumbai local' or any local train network, metro trains and some public transport busses work on electricity. There are electric vehicles in India, but how long before they become common? Let's find out!
---
QUOTE
"In order to have clean air in cities, you have to go electric." – Elon Musk
"The time is right for electric cars – in fact, the time is critical." – Carlos Ghosn
---
STATISTICS – What Numbers have to Say?
Vehicular pollution in India contributes a major of 70% to environmental pollution and CO is the major pollutant coming from the transportation sector, contributing 90% of total emissions.
According to a survey conducted in 2015, there are over 210 million registered motor vehicles in India.
According to the Indian oil ministry, India imports 82% of its oil requirements which costs around $85 billion per year.
Government of India has offered a subsidiary of $1.4 billion to encourage and support the domestic Electric Vehicle industry.
According to a study, there are 2 million electric rickshaws and two-wheelers in India.
---
DESCRIPTION – Let's take a Deep Dive
Electric vehicles are propelled by one or more electric engines which are powered by electricity stored in rechargeable batteries. There are many types of electric vehicles such as electric cars, electric busses, electric bikes, electric trucks, electric trains, etc. These vehicles are a sustainable substitute for traditional diesel and petrol vehicles.
Though the initial price of electric vehicles is high, they will become affordable with an increase in their demand. There are also various advantages of electric vehicles as they are environment-friendly and have minimum maintenance.
Union minister of state Mr Piyush Goyal, who is also in charge of Power, Coal, New & Renewable Energy, and Mines, recently announced that only electric vehicles will be sold in India from 2030.
The use of electric vehicles in India will also reduce the exploitation of non-renewable resources like coal, petroleum, etc. With all the advantages of electric vehicles, the question remains that is India ready for it. Before coming to a conclusion, let us list out the reasons why India is or is not ready for electric vehicles.
---
Yes, India is ready for electric vehicles
With the increasing threat of climate change, India has to find a clean energy alternative. The pollution has risen to alarming levels and thus the implementation of electric vehicles in India should be welcomed.
As a huge amount of oil requirements are to be imported for automobiles, a sustainable replacement like electric vehicles works best.
Prominent manufacturing companies like Mahindra & Mahindra, Hero electric vehicles, Maruti Suzuki have invested in various electric vehicles projects in India.
Various cities have introduced electric buses for public transport. it can be observed that the introduction of electric vehicles in public transport has turned convenient and effective.
India has treaties with major lithium producing countries which is used in the production of batteries of electric vehicles. The government also plans to set up a lithium-ion battery making facility.
No, India is not ready for electric vehicles
The major issue faced is the lack of infrastructure for electric vehicles. India does not have a well-structured setup for charging stations, thus limiting the journeys.
Power theft in India is very common and it costs more than $16 billion a year. If such great revenue is lost to power theft, the development will be hindered.
As the total system will be supported by electricity, power cuts will have adverse effects. Even developed cities in India face power cuts today, let alone villages and other areas.
The maximum speed offered by an electric car is much less than a fuel-driven car.
---
CONCLUSION
To bring electrification into action, subsidies play an important role. India witnesses a successful application of electric vehicles in its public transport system, that needs to enhance. Introduction of electric cars or personal electric vehicles may take time as they require a supportive infrastructure with convenient charging stations. As said by the Union Minister, India can bring maximum electric vehicles on road by 2030.
---
Author – Mitali Shingne
---
Must Explore
GD/WAT Topics for MBA Admissions