Blogs
Free Digital Marketing Courses: Unlocking the Power of Online Marketing
Free Digital Marketing Courses
In today's digital age, businesses thrive on effective online marketing strategies to reach and engage their target audience. Digital marketing has revolutionized the way companies promote their products and services, making it essential for professionals and entrepreneurs to stay updated with the latest trends and techniques. Fortunately, there is a plethora of free digital marketing courses available that can help individuals enhance their skills and drive success in the digital realm. In this article, we will explore some of the best free digital marketing courses, equipping you with valuable knowledge to master the art of online marketing.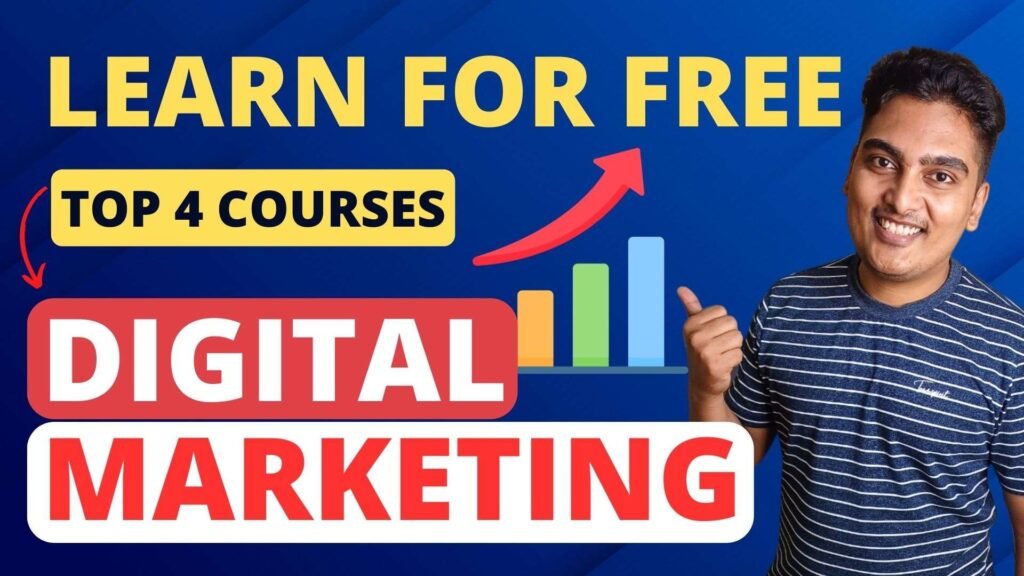 Google Digital Garage
When it comes to digital marketing, Google is undoubtedly a leading authority. The Google Digital Garage offers a comprehensive and beginner-friendly course that covers various aspects of online marketing. From understanding the fundamentals of SEO and SEM to mastering the art of content marketing and social media, this course provides valuable insights. Moreover, you'll also learn how to leverage Google Analytics to analyze website performance and make data-driven decisions.
Link to Google Digital Marketing Course
HubSpot Academy
HubSpot Academy is a well-known platform for its inbound marketing expertise. Their free digital marketing course includes a series of videos and comprehensive resources that delve into topics such as email marketing, lead generation, social media marketing, and more. With hands-on projects and real-world examples, learners can acquire practical skills to excel in their marketing endeavors.
Link to HubSpot Digital Marketing Course
Facebook/Meta Blueprint
With over 2.8 billion active users, Facebook offers an unparalleled platform for businesses to reach their target audience. Facebook Blueprint provides a range of free online courses that cover Facebook and Instagram marketing. This course delves into Facebook advertising, content creation, and strategies to maximize engagement. By earning a Facebook Blueprint certification, you can demonstrate your proficiency in using these platforms to bolster your marketing efforts.
Moz Academy
For those looking to gain expertise in search engine optimization (SEO), Moz Academy is a go-to resource. The platform offers an array of free SEO courses that cater to beginners and experienced marketers alike. You will learn how to optimize websites, conduct keyword research, and increase organic traffic. Acquiring SEO skills can significantly impact your online visibility and enhance your marketing strategies.
Link to Moz Academy Digital Marketing Certification
SEMrush Academy
SEMrush is a renowned tool used by marketers for SEO, PPC, and content marketing analysis. Their free digital marketing courses, offered through SEMrush Academy, provide valuable insights into these areas. You'll learn how to perform keyword research, conduct competitor analysis, and improve your website's search engine ranking. Moreover, the course covers essential topics like backlink analysis and understanding web traffic metrics.
Link to SEMrush Academy of SEO Courses
Coursera
Coursera offers a vast range of courses on various subjects, including digital marketing. While some courses on the platform require payment, you can find free digital marketing courses from reputed institutions like the University of Illinois and the University of California, Davis. These courses cover topics such as marketing analytics, social media marketing, and branding.
Link to Coursera Digital Marketing Certification Courses
LinkedIn Learning
LinkedIn Learning, previously known as Lynda.com, offers numerous high-quality digital marketing courses taught by industry experts. You can access these courses for free by signing up for a one-month trial. The platform covers various digital marketing aspects, including data analysis, email marketing, and online advertising. Link
8. edX Courses
With hands-on projects and practical insights, edX equips you with the skills to excel in the ever-evolving digital landscape. Whether you're a marketing professional or an aspiring entrepreneur, this course will empower you to drive success in the online realm.
Link to edX Digital Marketing Certification
---
Conclusion
Digital marketing has become a cornerstone of success in the modern business landscape. Staying ahead in this competitive field requires continuous learning and upskilling. The availability of free digital marketing courses has made it easier for individuals to gain valuable insights without breaking the bank. Whether you're a marketing professional looking to enhance your skills or an entrepreneur aiming to promote your business effectively, these courses offer a treasure trove of knowledge.
Remember, mastering digital marketing is a journey that demands dedication and practical application of the skills learned. So, don't hesitate to enroll in these free courses and unlock the power of online marketing to achieve your business goals. Happy learning and marketing!
---
Must Explore