Blogs
Fake MBA Salary – Reality of MBA Placements 2022
MBA Salary
Finally the most awaited topic is here. We all know that most of the students opting for an MBA are looking for fat salaries after course completion. There is nothing wrong behind this thought process because ultimately you are going to be grilled and then paid for the same. The grilling process in MBA institutes along with skills acquired will help you fetch a decent job.
---
The reality of MBA placements
The placements figures mentioned in the placement report are not always real. The average, median and highest salary is mentioned in the report which gives a fair idea about that B-school's health. The figures indicate CTC i.e. cost to the company and not the take-home salary.
A student reading the placement report will most probably end up dividing the CTC figure by 12 to predict monthly income. There is a flaw in this calculation because a lot of components together constitute the CTC number. The following terms will help you understand this subject in depth.
Salary Components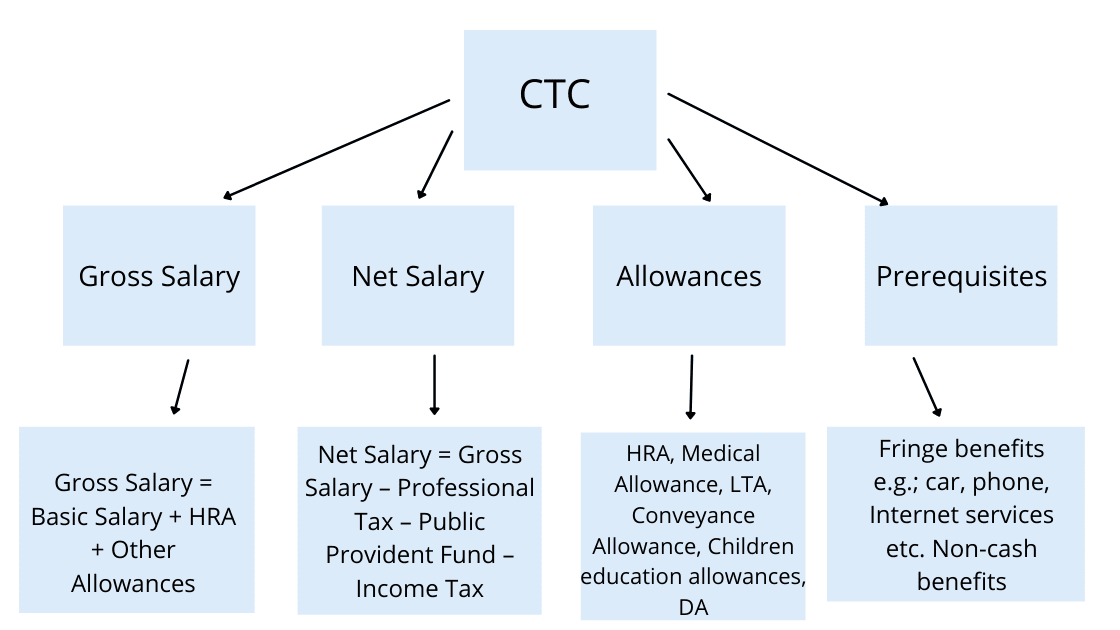 CTC – Cost to Company is the total amount that an organization spends on its employee.
In general, CTC = Gross Salary + PF + Gratuity
Provident fund(PF) – An amount contributed per month by the employee and organization. It is mostly treated as savings and recovered after retirement.
Basic salary – The minimum fixed salary that is deposited in the account every month.
Gross salary – The addition of basic salary and allowances constitute the Gross salary.
Gratuity – The amount received by an employee after completing at least 5 years with the organization.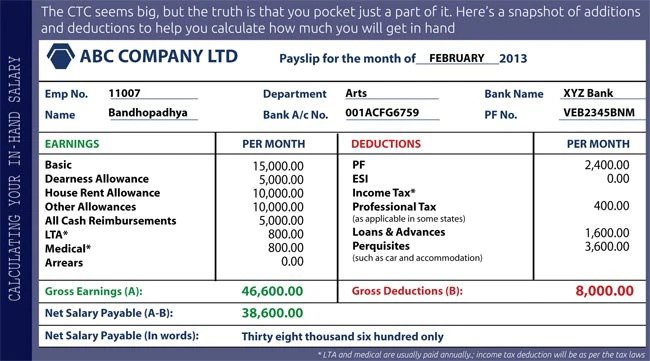 ---
Types of Allowances in Salary
Allowances – This amount is allocated to an employee to fulfil the company's service requirements or goals.
House Rent Allowance (HRA)
The company either provides housings facility or they provide house rent allowances to its employees.
Dearness allowance
The payment of dearness allowance facilitates employees and workers to face the price increase or inflation of prices of goods and services consumed by him.
Leave Travel Allowance (LTA)
The employees are given allowances to visit any place they wish with their families.
City Compensation Allowance
City compensation allowance is paid to the employees in certain cities to compensate for the cost of living. It varies from city to city & it is highest in metropolitan cities.
Incentives
Incentives and variable compensation can be among the most important drivers of individual performance. An incentive is something that motivates an individual for good perform.
Bonus
Bonus is paid to the employees during festive seasons to motivate them and provide them with social security.
Special Allowance
A special allowance such as overtime, mobile allowances, meals, commissions, travel expenses, reduced interest loans; insurance, club memberships, etc is provided to employees to provide them social security and motivate them which improve the organizational productivity.
---
Indirect Compensation
Indirect compensation refers to non-monetary compensation provided to employees in return for their services to the organization.
Leave Policy
It is the right of an employee to get the adequate number of leave while working with the organization. The organizations also provide for paid leaves such as casual leaves, medical leaves (sick leave), maternity leaves and statutory pay, etc.
Overtime Policy
Employees were provided with adequate allowances and facilities during their overtime.
Medical Benefits
The employees were provided allowances to get their regular check-ups and also provide medical-claim for their family.
Insurance
Organizations also provide for accidental insurance and life insurance for employees. This gives them emotional security and they feel valued in the organization.
Leave Travel Allowances
The employees are provided with leaves and travel allowances to go on holiday with their families.
Retirement Benefits
Organizations provide for pension plans and other benefits for their employees which benefits them after they retire from the organization at the prescribed age.
Holiday Homes
Organizations provide for holiday homes and guest house for their employees at different locations. These holiday homes are usually located in a hill station and other most-wanted holiday spots.
Flexible Timings
Organizations provide for flexible timings to the employees who cannot come to work during normal shifts due to their personal problems and valid reasons.
---
Must Explore