CORPORATE SLAVERY
INTRODUCTION
"Do what you love, and love what you do" is another common saying that is not commonly implemented. A person spends the major part of his life working and those years of work turn into a monotonous routine if it isn't fun. With a variety of jobs and business opportunities in the market, some people choose to climb the corporate ladder.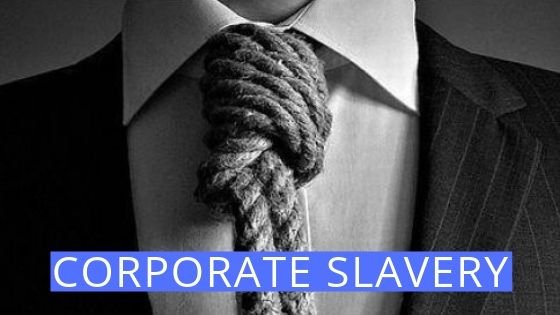 Climbing this ladder is not that simple as nothing worth having comes easy. A great amount of hard work and energy has to be put in to reach success. But is all that effort worth it? Or the passion of succeeding has blinded us all and turned us into corporate slaves? Let's find out!
---
QUOTE
" The simple act of recognizing diversity in corporate life helps us to connect the great variety of gifts that people bring to the work and service of the corporation." – Max De Pree
" Always deliver more than expected." – Larry Page, co-founder of Google
" It takes time to build a corporate work of art. It takes time to build a life. And it takes time to develop and grow. So give yourself, your enterprise and your family the time they deserve and the time they require." – Jim Rohn
---
STATISTICS – What Numbers have to Say?
The working population in India is over 487 million, the second largest after China.
Tata Consultancy Services (TCS) has become the world's third largest employer of people in the technology sector.
According to a survey conducted by The Economic Times, only 20% of the employees are satisfied with their jobs. The reasons for job satisfaction being a good relationship with co-workers, benefits and overall package, paid time off and defined benefit pension plan.
80% of the employees are dissatisfied with their jobs. Of all the reasons for dissatisfaction, 40% is contributed by very few career opportunities whereas 30% contributed by lack of recognition.
In its 23rd edition of Salary Increase Survey in India, Aon noted an average hike of 9.5% in the year 2018 which is expected to increase to 9.7% in the year 2019.
According to an Employee Happiness Index survey conducted in 2018, employees offered 20 or more benefits are 17% more satisfied than those who are offered less than 10.
---
DESCRIPTION – Let's take a Deep Dive
Corporate, meaning relating to a large group or business has created various job opportunities and set a platform for diverse exposure. India is a growing economy and thus home to many corporate businesses. Being a labor surplus country, there are more eligible candidates and lesser vacancies. This reduces the value of an employee and a question arises that are corporate jobs a new form of slavery?
Slavery, in its literal terms, means working in bondage or working very hard without getting proper remuneration. This is not only cruel and evil but also inhumane. Corporate jobs do demand higher working hours and constant performance but the rewards are also high. And when the rewards are high, one cannot compare slavery to corporate jobs. However, financial abundance turns insufficient when mental peace and health is sacrificed.
Some people prefer owning a business than working for someone else as they have the power to make decisions and not answer to anybody while some prefer having a defined career path guided by someone to reach their goals. An ideal, happy job is a myth. It takes hard work and immense dedication to earn money be it corporate or any other sector.
---
ADVANTAGES OF CORPORATE JOBS
One of the biggest advantages of working in the corporate sector is networking. Working on diverse projects brings various opportunities and exposure.
There are various employee benefits and incentives provided by large companies which include pickup and drop facilities, health insurances, memberships, and discounts.
Flexible options like being able to work from home have brought a major difference in the corporate culture.
Corporates provide with well-structured training programs and defined roles in the organization which improves specialized skills and enhance career opportunities.
Performance-based promotions and recognition act as motivation and also timely bonuses are given depending on the company's success.
DISADVANTAGES OF CORPORATE JOBS
Employees often complain about long working hours that exhaust them for any other personal activities. Many companies work 6 days a week that means you only get a day off to rest as well as get your works done.
There is a constant pressure of meeting the deadlines and targets. This often leads to stress and similar health issues.
Competitive spirit has now taken the form of rat-race. This often brings up office politics and there is a loss of a healthy work environment.
Over-times and working on holidays come with a mandatory note, so you cannot deny even if you want to and most of the times are unpaid.
Corporate jobs don't come with the freedom of making decisions. You have to always consult higher authorities before approving anything. At such times personal opinions are suppressed.
---
CONCLUSION
The world has turned competitive no matter what field or sector you are working in. There will always be a constant need to put up results and better results the time after that. Maintaining one's individuality at work and after work will certainly help in taking this pressure off. Nobody gets more than 24 hours in a day, people don't get to do enough after work and thus call themselves a corporate slave. But it's a matter of perspective and ability to manage one's time.
---
Author – Mitali Shingne

---
Must Explore
How to crack Group Discussion?