MBA Colleges
Trending
FMS Delhi 2023 Placements
Highest Salary - Rs. 1.23 Crore
FMS Delhi MBA 2023
FMS Delhi, short for Faculty of Management Studies, is a prestigious institution renowned for its excellence in management education. Established in 1954 under the aegis of the University of Delhi, FMS Delhi has consistently ranked among the top management institutes in India. With a rich legacy of over six decades, the institute has played a pivotal role in shaping future leaders and entrepreneurs in the field of business and management.
Particulars
Information
B-school
FMS Delhi – Faculty of Management Studies
Program
MBA
Seats
250+
Fee for 2 years
Rs. 2.3 lakh excluding hostel & mess charges
Entrance exams accepted
CAT 2022
Eligibility Criteria

50% aggregate in graduation

Selection Process
Shortlisting on the basis of CAT 2022

CAT score: 50%
10th: 10%
12th: 10%
SOP Discussion: 10%
Extempore: 5%
Personal Interview: 5%

Placements

Highest Salary: Rs. 1.23 crore LPA

Average Salary: Rs. 34.1 LPA
Median Salary: Rs. 31 LPA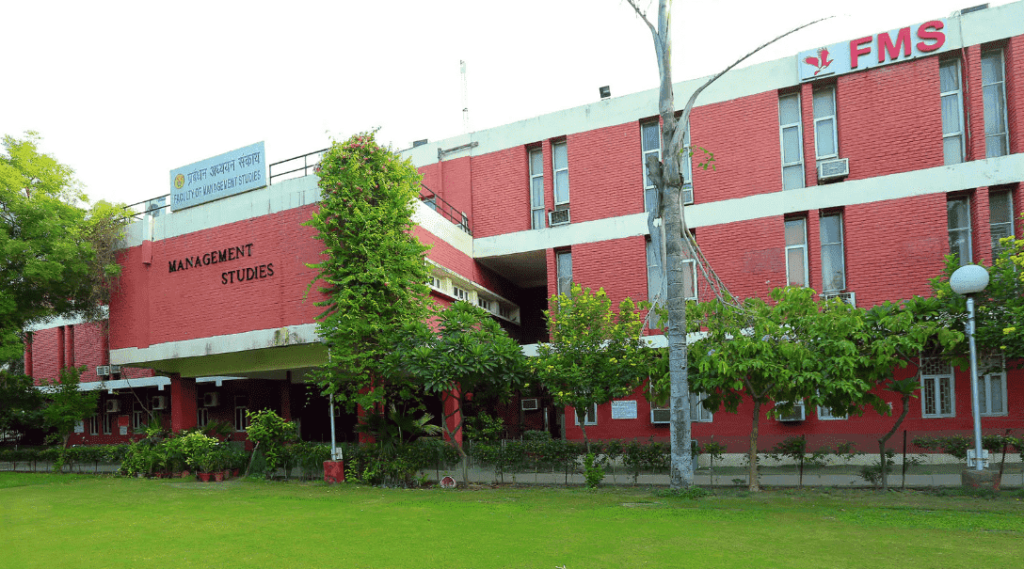 | Particulars | 2023 | 2022 |
| --- | --- | --- |
| Highest Salary | INR 1.23 crore per annum | Rs. 58 LPA |
| Average Salary | INR 34.1 LPA | Rs. 32.4 LPA |
| Median Salary | INR 31 LPA | Rs. 30 LPA |
| Students appeared for placements | 269 | 257 |
Must Explore
How to crack FMS Delhi Personal Interview?
Prepare for FMS Delhi GD/Extempore Round
Here are some key pointers highlighting the distinguishing features of FMS Delhi:
Academic Programs: FMS Delhi offers a full-time Master of Business Administration (MBA) program, which is highly regarded for its rigorous curriculum and industry-relevant coursework. The program is designed to provide students with a holistic understanding of various management domains, including finance, marketing, operations, human resources, and strategy.
Faculty Expertise: FMS Delhi boasts a distinguished faculty comprising experienced academicians and industry professionals. The faculty members bring a wealth of knowledge and real-world insights into the classroom, ensuring a dynamic and interactive learning environment for the students.
Placement Opportunities: FMS has a strong industry connect and enjoys a stellar placement record. The institute attracts top-tier companies from diverse sectors, offering lucrative job opportunities to its students. The placement process is highly competitive, with students securing coveted roles and attractive salary packages.
Alumni Network: FMS takes pride in its extensive and influential alumni network, which comprises successful professionals holding leadership positions across industries. The alumni actively engage with the institute, mentoring current students, and fostering a strong sense of camaraderie and support.
Research and Publications: FMS Delhi encourages faculty and students to engage in research and publishes numerous scholarly articles in reputed national and international journals. The institute's research initiatives contribute to advancements in management knowledge and practices.
Infrastructure and Facilities: FMS Delhi provides state-of-the-art infrastructure and modern facilities, including well-equipped classrooms, a well-stocked library, computer labs, seminar halls, and a dedicated placement cell.
Selection Process: Admission to FMS Delhi is highly competitive and based on a rigorous selection process. Candidates are shortlisted based on their performance in the Common Admission Test (CAT) conducted by the Indian Institutes of Management (IIMs). Shortlisted candidates then undergo a group discussion and personal interview round before final selections are made.
FMS Delhi stands as a beacon of excellence in management education, imparting knowledge, fostering leadership skills, and preparing students to take on the challenges of the corporate world. With its esteemed faculty, robust curriculum, strong industry connections, and successful alumni base, FMS Delhi continues to shape the future of management education in India and beyond.